Fixed type vacuum homogenizer cosmetic mixer machine | Industrial Cosmetic Mixer
Product Detail
Product Tags
1. Industrial Cosmetic Mixer with Bottom high shearing homogenizing head, speed 0-3000 rpm, Delta inverter control.
2. External emulsifying and homogenizing by vertical type inline homogenizer with pipes;
3.The homogenizer for Industrial Cosmetic Mixer works as a transfer pump for discharging finished product;
4. fixed type vacuum emulsifier homogenizer adopts the foreign advanced design.
5. Bottom high shearing homogenizing head ,Industrial Cosmetic Mixer  speed 0-3000 rpm, Delta inverter control.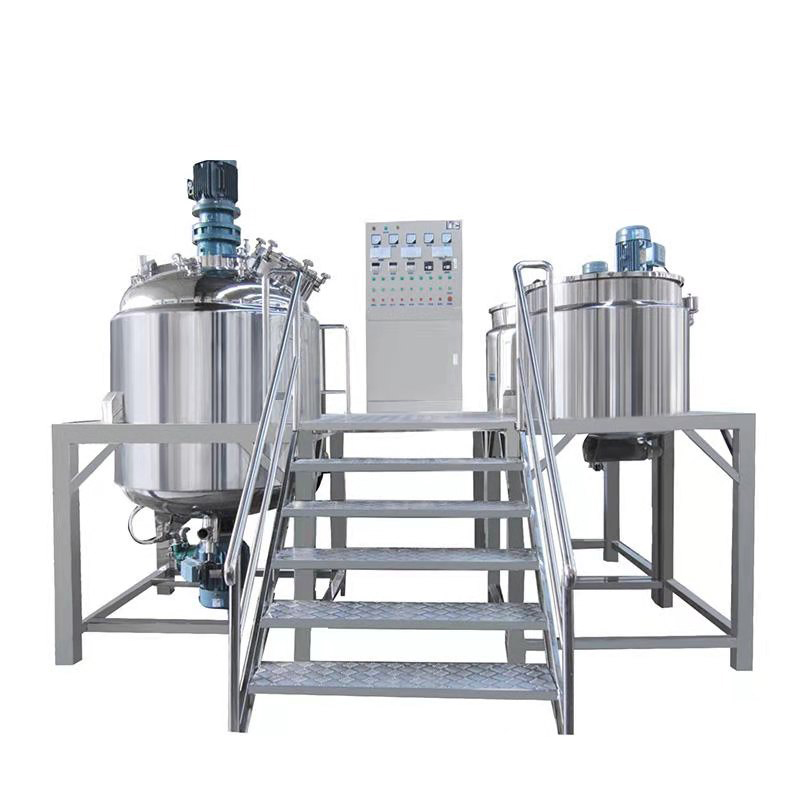 6. External emulsifying and homogenizing by vertical type inline homogenizer with pipes;
7. The homogenizer also works as a transfer pump for discharging finished product;
8. Outer anchor agitator has pipe design for enhanced mixing and good appearance;
9. Different jacket designs available for steam and electric heating;
10. All contact parts of Industrial Cosmetic Mixer made of SS316L and mirror polished;
11.The vacuum cosmetic cream making machine is perfectly suitable for all sorts of cream and lotion production;
12. Adopting the latest technology and the best components from the leading manufacturers;
13. Complete process of mixing, dispersing, emulsifying, homogenising, vacuum, heating and cooling in one unit;
14. The specifications of the Industrial Cosmetic Mixer comply with GMP regulations;
15. The structure of the vacuum emulsifier adopts concentric double shafts. The agitator and shear of the machine can be operated independently by itself, and the product effect is good.
16. Industrial Cosmetic Mixer adopts advanced electrical control to ensure its stable performance and reliability, etc.
17. Made of imported SUS304 or SUS316L stainless steel. The tank body and pipe are carried out mirror polishing, which is in complete accordance with GMP standard.
18. The vacuum defoaming function can make the materials meet the requirement of being sanitary and aseptic. The vacuum sucking material adopted can avoid dust,
19. German homogenization technology, the emulsification speed can reach 4200 rpm.
20. All parts of the Industrial Cosmetic Mixer in contact with the medium are made of stainless steel 316L , without any pollution to the product.
21. Teflon scraper, which caters to the shape of the stirring tank at any time, sweeps away the sticky materials on the wall for fast heat transfer.
22. The homogenizing head adopts a high-shear eddy current emulsification mixer, and the slow-speed scraping and stirring will automatically adhere to the bottom and wall of the pot. Material micronization, emulsification,
23. Industrial Cosmetic Mixer compliance with GMP requirements, and is currently the most excellent and ideal ointment and cream production equipment at home and abroad.
24. A special shearing emulsifying homogenizer is adopted, and the material is strongly sucked in by the high-speed rotating rotor, and the material is squeezed and sheared strongly. The homogenization device is installed in the center of the pot body, which can make the material roll naturally in the pot body to eliminate dead corners, so that the material can be homogenized with higher quality.
25. Clockwise frame type wall scraping stirring, counterclockwise paddle type stirring, the scraper agitator produces centrifugal effect during operation, and the tetrafluoroethylene scraper is close to the pot wall.
Model

Capacity (L)

Main pot power (kw)

Mixer RPM

Homogenizer RPM

Total power(kw)

 

Main tank

Water tank

Oil tank

Mixing motor

Homogenizer motor

 

 

Steam heating

Electrical heating

ZT-KA-150

150

120

75

1.5

2.2-4.0

0-63

0-3000

8

30

ZT-KA-200L

200

170

100

2.2

2.2--5.5

10

37

ZT-KA-300

300

240

150

2.5

3.0--7.5

12

40

ZT-KA-500

500

400

200

4

5.0--8.0

15

50

ZT-KA-1000

1000

800

400

5.5

7.5--11

29

75

ZT-KA-2000

2000

1600

1000

5.5

11--15

38

92

ZT-KA-3000

3000

2400

15000

7.5

15--18

43

120

Remark: The machine dimensioon motor power can be customized according customers workshop
Homogenization: medicine emulsion, ointment, cream, facial mask, cream, tissue homogenization, milk product homogenization, juice, printing ink, jam:
(1) Daily chemical and cosmetic industry: skin care cream, shaving cream, shampoo, toothpaste, cold cream, sunscreen, facial cleanser, nutritional honey, detergent, shampoo, etc.
(2) pharmaceutical industry: latex, emulsion, ointment (ointment), oral syrup, etc.
(3) food industry: thick sauce, cheese, oral liquid, baby food, chocolate, boil sugar, etc.
(4) chemical industry: latex, sauce, saponification products, paint, coatings, resins, adhesives, detergents, etc.
1. power supply: three phase : 220v 380v .415v. 50HZ 60HZ
2. Capacity : 100L up to 5000L
3. Motor brand : ABB. Siemens option
4. Heating method: Electric heating and steam heating option
5. control system plc touch screen. Key bottom.
6. Fixed type or Hydraulic lifting type or Pneumatic lifting.
7. variety of paddle designs meet difference requirement.
8. SIP is available upon request for cleaning process.
---
---