Internal and external circulation emulsifying machine
Product Detail
Product Tags
1.Can be equipped with: batching system, discharging system, cooling and heating temperature control system, vacuum system, nitrogen protection, PH value online measurement control, CIP cleaning system, etc.
2.Vacuum system to take out the air bubbles during mixing and to transfer the ingredients;
3.Ideal frequency conversion speed regulation device can make the speed arbitrary stepless speed regulation.
4. Different jacket designs available for steam and electric heating;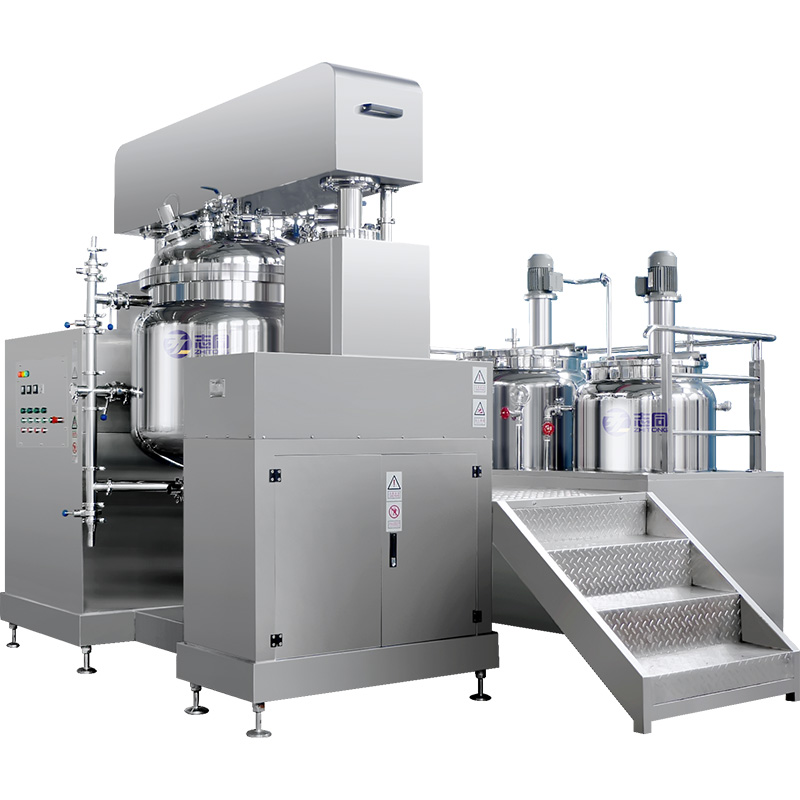 5. Vacuum system to take out the air bubbles during mixing and to transfer the ingredients;
6. ideal frequency conversion speed regulation device can make the speed arbitrary stepless speed regulation.
7. Vacuum Homogenizer Emulsifier Mixer is equipped with a unique integrated sight glass device on the lid of the pot, equipped with a closed illuminator;
8. Double temperature probes and controllers for electrical heating in main emulsification machine;
9. All contact parts are made of SS316L and mirror polished;
10. Multiple safety protection devices for vacuum, hydraulic pump and workers;
11. The material of contacted part is SUS316L stainless steel, inside and outside of the equipment are with mirror polishing and get to GMP standard.
12. All pipelines and parameter are controlled automaticlly. And the electric appliance which are imported from foreign country ,like Siemens ,Schneider and so on.
13. Emulsifying tank adopts tertiary agitating system, and during the emulsification ,the whole processing is under a vacuum environment, so it not only can eliminate spume which created in the emulsification processing ,but also can avoid the unnecessary pollution.
14. The homogenizer adopts the most advanced technology ,it can get a ideal emulsifying effect.The speed of high emulsification is 0-3500r/min, and the speed of low mixing is 0-63r/min.
15. The vacuum emulsifying mixer is mainly composed of water pot, oil pot, emulsifying pot, vacuum system, lifting system( optional), electric control system ( PLC is optional). operation platform, etc. capacity can customized.
16. Polytetrafluroethylene scraping board cater to body of blending groove and scrape out viscosity material on boiler.
17. adopt the imported mechanic seal to ensure reliable tightness prolong the seal life and save spare parts cost.
18. Double jackets for heating and cooling; Agitating system has the window and light.
19. Mixing motors adopt Siemens or ABB brands make sure the machine has better performance and low noise.
20. The specifications of the vacuum homogenization mixer comply with GMP regulations;
21. 1440rpm disperser inside oil tank and water tank, with heating function to melt raw material quickly.
22. Mightiness balance isotactic curve rotor is matched with stator with corresponding structure to realize liquid high -capability cut, rubbing;
23. vacuum cosmetic cream making machine incorperates the smart control system and highly automatic and simplified user interface;
24. Oil hydraulic lifting system for easy cleaning and maintenance and easy to check the tanks inside;
25. Spray ball is equipped to connect to customer's CIP system for automatic cleaning process.
Model

Capacity (L)

Main pot power (kw)

Oil water pot power (kw)

Hydraulic lift power (kw)

Total power(kw)

 

Main tank

Water tank

Oil tank

Mixing motor

Homogenizer motor  

mixing RPM

homogenizer RPM

 

 

Steam heating

Electrical heating

ZT-KB-50

50

40

25

1.1

2.2

0-63

0-3000

0.75

0.75

9

18

ZT-KB-150

150

120

75

1.5

4--9

1.5

1.5

13

30

ZT-KB-200L

200

170

100

2.2

4.0--11

1.5

1.5

15

40

ZT-KB-300

300

240

150

2.5

4.0--11

1.7

1.7

18

49

ZT-KB-500

500

400

200

4

5.0--11

2.2

2.2

24

63

ZT-KB-1000

1000

800

400

5.5

7.5--11

2.2

2.2

30

90

UP TO 3000

 

 

 

 

Remark: The machine dimensioon motor power can be customized according customers workshop
Homogenization: medicine emulsion, ointment, cream, facial mask, cream, tissue homogenization, milk product homogenization, juice, printing ink, jam:
1. fine chemicals: plastics, fillers, adhesives, resins, silicone oil, sealants, slurry, surfactants, carbon black, colloid mill, emulsifying machine, filter defoaming agent, brightener, leather additives, coagulants, etc.
2. daily chemical industry: washing powder, concentrated washing powder, liquid detergent, all kinds of cosmetics, skin care.
1. power supply: three phase : 220v 380v .415v. 50HZ 60HZ
2. Capacity : 50L up to 500L
3. Motor brand : ABB. Siemens option
4. Heating method: Electric heating and steam heating option
5. control system plc touch screen. Key bottom
6. Fixed type or Hydraulic lifting type or Pneumatic lifting
7. variety of paddle designs meet difference requirement
8. SIP is available upon request for cleaning process
---
Previous:
Hydraulic lifting type vacuum emulsifier
---